I spent three weeks in South Africa this winter, learning the meaning of sustainability in a developing country.
Something Fresh in Memel, South Africa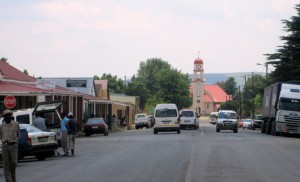 Is it possible to create a little slice of heaven in a place where both unemployment and the incidence of HIV are high and the stark shadow of apartheid still persists in both race and gender relations? Absolutely, say husband and wife Steven Ablondi and Cindy Burns, residents and investors in the little rural town of Memel, about three hours south of Pretoria and Johannesburg. Not that it will be easy, of course, but the two Americans are well prepared for the challenge. In decades of diplomatic and legal work with the United Nations, they helped resettle crisis-ridden refugees from countries like Rwanda, Bosnia and Cambodia. Now they've thrown hearts, souls, and savings into their vision of a resilient community where health, practical life skills, self-reliance, and property values are all on the upswing. Where human rights are respected and human resources are used to full advantage.
Memel and its predominantly black township, Zamani, was once a regional hub for farmers, but now it is struggling to reinvent itself. Steven and Cindy want to help demonstrate that rural towns can be self-reliant places to live, on a sturdy foundation of "pocket neighborhoods" with hand-crafted houses; community gardens and small farms rich in jobs and food security; and healthy new businesses that offer locally-accountable goods and services.
The Free State's platteland is a region well-known for its natural assets: productive farms, wide-open spaces; and a remarkable abundance of bird species. First drawn to Memel by bird-watching opportunities, Steven quickly saw an Eden in the rough. "Memel didn't have an ATM at the bank or a single place to eat then, but it did have lots of yards with gardens and orchards, a beautiful church, and a low crime rate." With a background in real estate as well as law, he bought first one, then a series of properties. Says Cindy, "I was working in Baghdad when he told me he was buying properties, and I asked him, 'What would I do if we retire in a place like that?'" She would find out soon enough.
Permaculture Gardens and Designer Earth Houses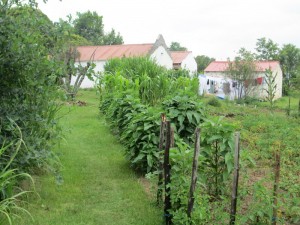 "I've always loved to work with teams of people," says Cindy. "When I finally left my U.N. career and joined Steven in Memel, there already was a crew of gardeners from the nearby township learning about organic techniques." Cindy was not yet expert in permaculture – which optimizes the inter-relationships among plants, soil, water, and beneficial insects – but she and her young protégé from Zimbabwe, Tedmore, have steadily created a system that captures and stores rainwater to irrigate the garden; uses the heat of a huge compost pile to provide hot showers for the crew; uses certain plants such as comfrey to repel insect pests, and in short, fully utilizes all available resources. "Tedmore was first employed with us as a ditch digger, but he showed such promise that he's now in charge of garden operations," she explains. "It may be true that it takes a village to raise a child," she says, "but it also takes skillful individuals to make a strong village."
Memel Organics garden now produces enough vegetables, fruit, and eggs to feed healthy meals to employees, a steady stream of guests, and the residents themselves. Hours-fresh produce is sold weekly at the farmer's market Cindy recently launched, and surplus food is shared with the local primary school, a nursery school, and an orphanage. They've already purchased the property that will house a health-oriented, gourmet restaurant in the future – the kind of place that will lure visitors from the big cities.
Meanwhile, Steven is focusing on the construction of sustainable buildings to house both residents and new businesses. "I've always been interested in owner-built homes made from locally available resources," he explains. "In the U.S., adobe and straw bale homes have proven their durability and efficiency, and similar materials can work here in South Africa." On their stand in Memel are various attractive prototypes: an elegant round building, hand-sculpted from cob (mud, straw and manure) and a rammed earth house that will soon be a studio for holistic therapies. Each building project was overseen by a visitor who had never before built such a structure – a deliberate demonstration by Steven of the simplicity of earth-centered construction. Before building the round house, Steven and Cindy went to the secondary school in Zamani and asked the principal for student volunteers to work over the holiday season. "He told us, teary-eyed, that no one had ever asked students to be part of something like this," Steven says. "Seven black girls from the township came over and worked with our young friend Jaine to create this pretty little building."
The need for houses that are better insulated is clear. "Existing houses in Memel were built according to Pretoria standards," says Steven, "but winters here are much longer and colder; some days it never gets above freezing. Sturdy houses insulated with earth are warm in winter and cool in summer." Housing in the black township is far less adequate: about three thousand people live in poorly-insulated, sheet-metal homes that offer little in terms of comfort, aesthetics, or efficiency. The pocket neighborhood of four households that is now under construction offers a glimpse of something better. It has a common house with shared features: a place to gather, cook, and use water-efficient showers. Human wastes will be converted to biogas for cooking and fertilizer for a small garden at the edge of the property. Steven is excited that the project will build local expertise in laying foundations, pouring concrete, framing doors, and pounding rammed earth walls into place.
At a slightly larger scale is a cooperative-style community under construction at the edge of Cindy and Steven's permaculture garden and orchard. "We'll market this European/American inspired village concept ("cohousing") to people who love gardening, the countryside, and watching birds – people who will likely have sufficient funds to take an occasional meal in a public restaurant. These new Memel residents – some in their retirement years – will be looking for something to do, and they may well volunteer for civic-type activities that will make Memel and Zamani a better place."
He summarizes, "Low-income housing projects built by the federal government are commendable but they don't really meet the overall need, in my opinion. They reflect much that's gone wrong throughout the world: they're conventional, impersonal structures built by the book. They don't create a sense of community or a feeling of self-reliance, and they aren't nearly as resource efficient as these new homes will be. The materials for these standardized homes have to be trucked in from distant cities, but in contrast much of the material for our houses comes right out of the ground."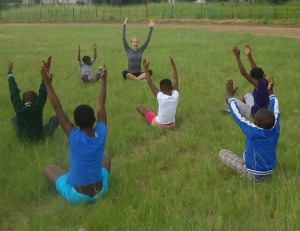 The Empowerment of Play
Several years ago, Cindy was watching a cricket game on TV and commented that it was too bad the black girls at Memel Primary School couldn't play sports. Their free time was mostly spent cooking at home (typically a one-bedroom, dirt-floored hut shared with a single mother or grandmother) getting water or firewood, and roaming the streets. "I knew if could help them, I could help the whole community." She launched a programme called SheWinS – Sports Helping to Empower Women in South Africa – that's changing lives and moving the town further away from apartheid. The programme links young, energetic mentors (largely from the U.S.) with the young students, offering role models and athletic coaches. Says the school's headmaster, Johann Du Toit, "The girls in the SheWinS programme came to life in the classroom: they were more alert, more likely to participate, they did better on exams, and just seemed more confident and happy." The most poignant indicator of the girls' personal development may be the recent absence of pregnancies among sixth and seventh graders.