My first clumsy efforts at speaking were years ago, in college courses I taught as an adjunct professor. In the very earliest classes, I would haul in teetering stacks of books and notes in case I ran out of things to say. What I remember most painfully was the expressionless faces under the ball caps and pouffy heads of hair. It wasn't their fault that they weren't having any fun – neither was I.
Now, speaking to and with a wide variety of audiences, I often find myself in The Zone, wishing I had another full hour to tell stories about proven cures for affluenza, "neighborhoods on purpose," and energetic mentors whose work germinates a greener way of life. After 30 years of shoveling brilliant ideas and innovations into my steamy, compost bin of a head, it's a welcome relief to unload loamy soil. I feel privileged, to help fertilize the vigorous grassroots of our society, who are pioneering a bright new normal.
David Wann gave an articulate explanation of voluntary simplicity, begging us not to "drop the egg that rightly belongs to the future." Get him to come speak at your conferences – you won't regret it. ~ Climate Today
Feedback on David Wann's Presentations
Dave proved to be approachable, knowledgeable, and intellectually thoughtful
"Sam Houston State University was so fortunate to have Dave Wann come to our campus for two days of discussions, small group interactions, keynote addresses, and presentations. As he participated as a co-author of Affluenza in our Bearkats Read To Succeed common reader program, Dave proved to be approachable, knowledgeable, and intellectually thoughtful with our faculty, staff, and students." ~ Keri L. Rogers, Ph.D., Assistant Vice President for Academic Affairs
"David was a keynote and workshop speaker at our annual Bridging the Gap conference and shared his perspectives about the need for cultural change in the world's affluent nations; sustainable communities, and 'Biologic' in school curricula. In doing so, David gave everyone a lot to think about and did a great job in compelling everyone to reconsider their own paradigms. In both the content of his messages and the way in which he conveyed them, he showed himself to be a first class presenter." ~ James MacDonald, Deputy Headmaster, Yokohama International School
"David opened with a lively, very amusing song, then spoke about how our current lifestyle is unsustainable… He offered various solutions for meeting our needs… leaving the students with a sense of curiosity and empowerment." ~ Brooke Dilling, Associate Director of Student Activities, Metropolitan State College of Denver
"When David Wann's best-selling book Affluenza was first published, he spoke to a standing-room only audience of over 250… As he spoke about the pitfalls of lifestyles built on materialistic values, the crowd was clearly engaged… his comments struck a chord…" ~ Jeff Lee, Coordinator of the Author Series, Tattered Cover Book Store & The Rocky Mountain Land Library
"David's pioneering experience with creating sustainable communities and his suggestions were much appreciated. I highly recommend David as an engaging, knowledgeable speaker!" ~ Steve Lyons, Chairperson for The Blue Sage Center for the Arts Lecture Series, Paonia, Colorado
"Dave's creative multi-media media guest lectures include slides of cutting edge communities that are hospitable to people and the environment, clips from documentary films he has produced, excerpts from his books, and even his guitar as he sings a song called Waking Up from the American Dream. Student engagement is very high." ~ Harvey Bishop, Professor of Political Science, University of Colorado
I plan on inviting him back.
"His style was spontaneous and lively, and he engaged the students interactively… I plan on inviting him back…" ~ Diane Hergott, Professor, Front Range Community College
Speaking Topics
Affluenza: The All-Consuming Epidemic
David Wann presents the symptoms, causes, and cures for the social disease – affluenza – that impacts our health, families, communities, culture. Economy, and environment. This presentation updates the material in the best-selling book, Affluenza, that he and coauthors are now revising, and includes discussion grounded in the book's study guide and affluenza diagnostic test.
The New Normal: Creating an Affordable Civilization
Highlights 33 high-leverage, mostly collective actions that can propel our dysfunctional society into a new anthropological era in which production and consumption are no longer obsessive-compulsive goals. With the flip of a paradigm switch, the era will be characterized by the real wealth of cultural richness, efficiency, time affluence, cooperation, health, expression, ecological design, and biological restoration – providing twice the satisfaction for half the resources per capita that we now consume. Includes music, slides, and discussion.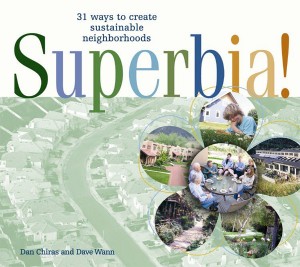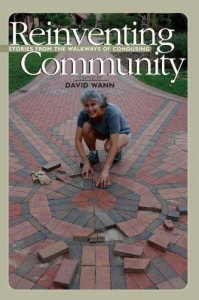 Neighborhoods on Purpose
The author of several books on sustainable neighborhoods (Reinventing Community and Superbia!) and producer of 6 videos and TV programs on New Urbanism, Smart Growth, cohousing, and sustainable communities (including one produced for then-VP Gore's office and another that is now streaming on the Netfix website) David Wann shares his perspectives on how healthy, diverse, walkable neighborhoods can meet essential human needs directly, providing a high quality of life. Wann is a 15-year resident of Harmony Village cohousing community, which he helped design and now helps manage. Audiences learn how they can create a neighborhood culture, in any neighborhood. Includes slides and audience participation.
The Zen of Gardening: How to Grow a Gardener
David Wann is a Master Gardener and 30-year veteran of vegetable, fruit, and ornamental growing. Author of The Zen of Gardening and producer of the TV documentary, Sustaining America's Agriculture, he presents tips, tools, and techniques with a dry sense of humor appropriate to the dry region where he gardens.
He uses 16 rules of thumb as philosophical footing, including:
1. If at first you don't succeed, keep planting. Wipe the slate clean by burying the evidence or hauling it to the compost pile. Your Brussels sprouts may be covered with aphids from stem to stern, but nobody needs to know that. The spinach looks anemic? Now you see it, now you don't. Lupine seeds never came up? Plant right over 'em.
2. Think like a plant. Plants aren't engineers, and they don't know anything about last frost dates, inches of rain, or number of days to maturity. They just want to grow. Put them in the right places, and learn to read the signs of their vitality. Use your intuition. Weave together crop history, weather, plant vitality, and a cupful of compost to meet a plant's needs.
3. Garden with all your senses. You may not be able to see a billion microbes in a handful of soil, or smell subtle chemical messages constantly being sent from plant to plant, but you can see a glow on the leaves of a healthy stand of chard. You can smell the richness of a well-rotted bucket of compost, taste the season's first crunchy snow peas, and feel the feathery leaves of an asparagus plant.